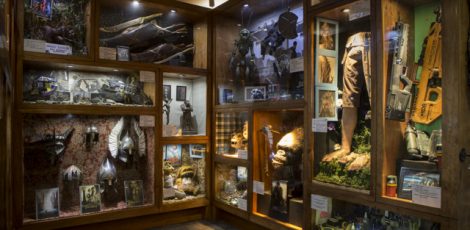 Overview
Suitable for all ages but best for 6+ (see below)
If you have kids that are interested in movies and especially in any movies that Weta have been involved in (not just Lord of the Rings and The Hobbit but also, Tin Tin, the Wot Wots, Thunderbirds etc etc), then it's worth taking them to check out what's on offer at Weta Workshop. There's the 'Weta Cave' which is basically a small shop and tiny exhibition area (see photo) which is free to enter and have a look around. There's also a free to watch behind the scenes video that screens every 30 minutes. Get a token to see the film from the counter in the Weta Cave.
There are several paid tours available that take small groups of visitors behind the scenes of and allow visitors to see props made at the Weta Workshop with the guide explaining how some of these were created. It's interactive in that some props can be touched or the guide will demonstrate how other props work or were used during filming. There's no lower age limit on supervised kids being included but it is worth noting that the tours last about 45 minutes and participants are required to stand for that whole time and are confined to a fairly limited space (run away kids would be a problem!) Kids roughly 6 years + and those with a real interest in the movies that Weta have been involved with, or those that are generally interested in prop making, will get the most out of it.
TOP TIPS: Book at least a day in advance to join a tour (even 3 days in advance during school holidays). Leave plenty of time to find a parking space if you're booked onto a tour, as there's no dedicated carpark and street parking is very limited around the workshop.
You could tie a trip here in with a visit to the Chocolate Fish Cafe for something to eat and outdoor play. You could also pop into Wellington Airport to see other Weta models in the check in area and departures lounge.
Related tags
Rainy-day
,
Wellington
,
Wellington City
Contact Information
Tel: 04 909 4100
Web: https://www.wetaworkshop.com
Address: 1 Weka Street, Miramar, East Wellington. Street parking is free but extremely limited. Leave enough time to search for a parking spot if you've pre-booked a tour.
Open: daily, 9am – 5.30pm (closed Christmas Day)
Price: Entry into the Weta Cave and seeing the short film is free. Tour prices vary but start at Adults $28, Kids (6-12 years) $13, Kids 5 years and under are free. Family Pass $72 (2A+2K). Prices are per tour. Tours leave and return to the Weta Cave.