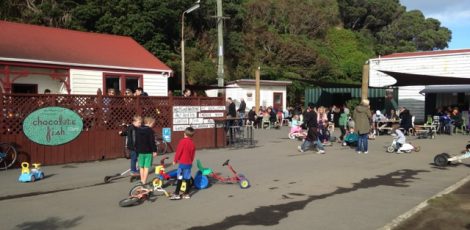 Overview
Suitable for all ages
This is a well known little gem of a cafe on the Miramar Peninsular to the East of Wellington. There is indoor seating but most people go when the sun is shining, to take seats outside and relax while their kids are playing.
There's a big concrete area with a wide variety of bikes, trikes and all manner of things with wheels which seems to keep kids of all ages occupied for ages! Other kids' equipment changes from time to time but I've seen a mini, enclosed Springfree trampoline on the grass and a plastic outdoor climbing structure with mini slide suitable for preschoolers. Older kids seem to like climbing around the back bank area which I'm sure isn't allowed…..!
The food here is all cooked to order on open grills with seafood being a big feature but vegetarians and carnivores are catered for as well! There's a separate kids' menu and they serve great smoothies (our family loves the Black Doris Plum smoothie!) Food can take a while if it's really busy, so ask when you're ordering as you can pick up a snack from the counter if you need to. If you're there at morning or afternoon tea time, the sweet treats and coffee are great as well. Kids' food comes with a chocolate fish, in keeping with the name of the cafe!
Related tags
Cafes
,
Outside
,
Playground
,
Wellington
,
Wellington City