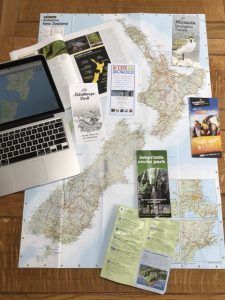 I love New Zealand and I love travelling around it with my family but the planning stage can be very time consuming. Let me help you by creating an itinerary that's just for YOU and YOUR family. Whether it's a long weekend or a couple of months, if you're taking the kids, I know all the great places to take them!
I can help with all or some of the following:
accommodation tips
cafes/takeaways/best places to enjoy a picnic
how long to spend in different places
off the beaten track ideas
places to visit from playgrounds to fishing spots and everything in between!
suggestions of places to stop to break a journey
All of what I put together for you will be based on what other families have tried and tested and loved BUT it will be just for you and your family – I don't have a selection of pre-made itineraries and I don't take payments from businesses to promote their attraction. I will get to know you and your family through a quick survey before I make suggestions for your next trip.
Prices start from $25. Whether you have your flights booked and arrival/departure destinations already organised or not, please send me an email and I'll give you a quote for your trip.
Testimonials:
"Dinah was an absolute Godsend for planning our trip in NZ. Traveling with two young kids can be stressful, especially when planning to visit a place you've never been that is halfway around the world. Dinah answered all my questions, going above and beyond what I would expect from her service. The itinerary we ended up with was perfect for our family. Truly awesome. Thank you!!" (Liz, USA)
"You have gone over and above what I would have anticipated when it comes to itinerary planning, and I really appreciate it. We did a lot of the things you suggested, and we packed a lot into the short amount of time we had. We had an amazing time." (Sarah, Australia)