About Kids on Board
Discovering new and fun things to do with kids can be tricky and time-consuming, whether you're looking for some weekend fun, planning school holiday activities, or heading out of town on a family road trip. Is that attraction worth the $15 entry fee? Does that café welcome children? Can you change a nappy, and is the coffee decent? Where are the best places to stop for a break when you're driving from Auckland to Napier?
Kids on Board is a website where you can find and share recommendations for places to stay with children, kid-friendly cafés and restaurants, and fun things to do as a family all around New Zealand. We also have frequently-updated Facebook and Instagram pages.
How Kids on Board started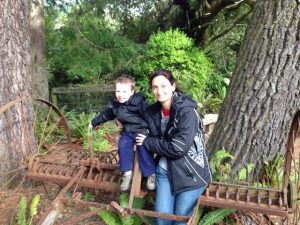 Hi! My name is Dinah and my family and I have lived in Wellington, New Zealand since 2010. As a young family, we've been on a lot of road trips. New Zealand is a beautiful country to explore, and it's much cheaper and easier to holiday here with young kids than to head overseas.
My son was just six weeks old when we drove from Wellington to Hawke's Bay to visit family. We've now done that trip so many times that we have a great list of the best playgrounds, kid-friendly cafés, and rain-or-shine activities.
Friends often ask me to share my travel tips (in a previous life I worked as a travel agent in the UK, booking people's holidays and business travel, so it's in my blood!) and over the years I've added to my list and passed it on to others. I've also benefitted from their recommendations – after all, who knows about kid-friendly actvities better than other parents and caregivers?
One day, I thought: 'How cool would it be to create a website where everyone could share their best tips for things to do around New Zealand with kids?' And so it was that, in 2016, Kids on Board was born.
How does it work?
Every activity, café, playground, walk, beach, etc. on this website has been personally recommended by friends, family, or our Facebook community and then researched by me, so you can discover places to go all over New Zealand that other families have enjoyed. This could be somewhere in your own city, a place you want to visit for a family day trip, or a destination that you'll travel the length of the country to reach.
Send us your recommendations!
Obviously, everyone is different and you might not agree with every suggestion. I've tried to be as thorough in each activity description as possible (without writing mini novels), so that you can make an informed choice as to whether it will suit your family.
That said, places can change – cafés close, prices go up, activities get put under different management, playgrounds fall into disrepair – so please let me know if you've come across anywhere listed on this site that hasn't been up to standard. Your feedback and suggestions will make this site more valuable for everyone.
Have I missed your favourite places? Tell me about them and I'll research and add them so everyone can benefit. Don't forget to follow Kids on Board NZ on Facebook too, for the latest news and recommendations.
Enjoy discovering new places to take your family, whether you're going somewhere new in your own backyard or going on a roadie!