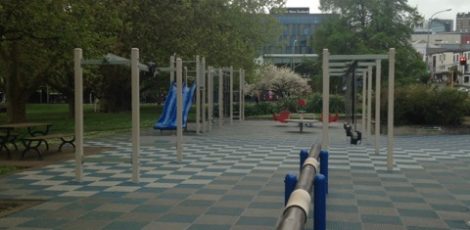 Overview
Suitable for all ages but limited equipment for the average preschooler
This playground has a particularly good selection of equipment for school aged kids with some quite different pieces like the wobbly balance beam log. There's lots of climbing opportunities, a high fireman's pole and monkey bars. Preschoolers are only really catered for with things like climbing on a tuatara and eel sculpture, a seesaw and there are toddler swings, although of course with help younger children might be able to manage some of the other equipment.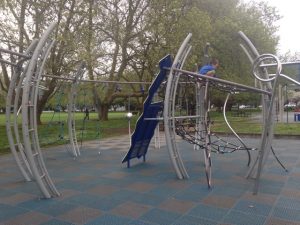 There are toilets next to the playground, some picnic tables within the playground and some shade provided by huge trees at certain times of the day/year. There's also a very large grass area used for cricket games during the summer or you could use it for running around on and ball games. There is a track between the pavement and grass that can be used for cycling or scooting. There's also a big skate park on the Beaumont Street side of the park (too far away from the playground to be able to supervise kids at both).
Pick up a coffee and food including ice creams at Victoria St Market which is opposite the playground. Or The Green Keeper Cafe at the corner of Fanshawe and Halsey Streets does takeaways. There's also a big New World supermarket on the corner of Beaumont and Victoria St West. Or if you fancy something a bit fancier, the breakfasts at Major Sprout are a short walk away and highly recommended!
While there is a low wall around the playground, it isn't fenced off and the entrances are not secure. The park is surrounded on all sides by big busy streets so it might not be suitable for very young kids that are likely to run off. As always, parent supervision is needed.
Related tags
Auckland
,
Auckland City
,
Free
,
Outside
,
Playground
Contact Information
Address: Victoria Park takes up a whole block between Victoria St West, Halsey St, Fanshawe St and Beaumont Streets.
The playground is near the junction between Halsey Street and Victoria Street West.
TOP TIP: There are some P120 parking spaces near the Green Keeper Cafe within the park. Turn off Halsey Street towards the cricket club rooms to find them. Some are reserved but quite a few are for public use.