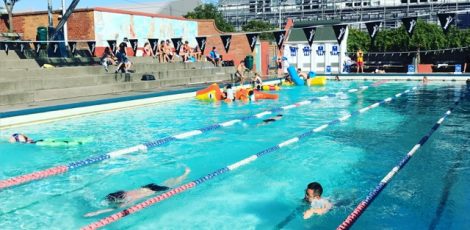 Overview
Suitable for all ages but see note below about depth of pool
This summer pool has been around in its central Wellington location since the 1920s and it's great on those rare super hot days when you can't be bothered with sand in everything or just want a quick dip at the end of the day. The good thing about this pool is that because it's heated, your kids won't turn blue within 5 minutes yet it's still very refreshing on a warm day.
This is a very deep pool though so be warned! Little ones won't be able to stand possibly at all and even adults will go out of their depth from around halfway down (depending how tall you are). If you're happy to have kids hanging off you though or have kids that are fairly confident swimmers, this is a great pool to visit. Roughly half the pool is usually given over to lane swimming but the rest is for leisure swimming with floats and a few inflatables. You might want to take your own floats/noodles/water wings for kids. Older kids can have a great time doing things like bombs that might not be safe in shallower pools.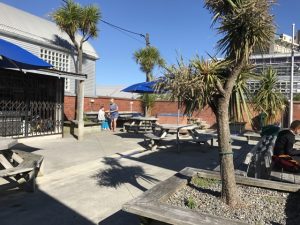 Terraced seating and a BBQ area are under part shade but no shade at all over the pool.
TOP TIP: Thorndon Chippery is in the next block down and does great fish and chips. Pre order your food before you swim and collect when you have finished to either take home, take back to the pool or enjoy in Parliament Gardens just nearby (accessible from Hill Street and Molesworth Street).
Related tags
Outside
,
Pools
,
Wellington
,
Wellington City
Contact Information
Tel: 04 472 8055
Web: http://wellington.govt.nz/recreation/get-active-indoors/pools/swimming-pools/thorndon-pool
Address: 26 Murphy Street, Thorndon, Wellington. There are some car parking spaces right outside, reserved for swimmers but check the signs carefully. Otherwise there's metered parking all along Murphy Street (2 hours free on Saturday & Sunday).
Open: from end of October (21st October 2017) until end March/beginning of April (1st April 2018).
When open, it's open daily; Monday – Thursday 6.30am – 8pm, Friday 6.30am – 7pm, Saturday & Sunday 7.30am – 7pm and Public holidays 8.30am – 6.30pm.
Price: Adult $6, Kids (5-14yrs) $3.70, Preschoolers FREE, Spectators (including an adult accompanying a preschooler in the water) $1 Family Pass (2A+3K or 1A+4K) $15.90.