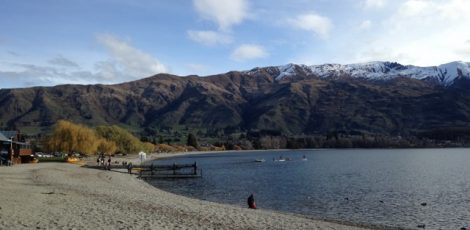 Overview
Suitable for all ages
There's lots to do along the waterfront in Wanaka!
Hire a double Kayak or SUP so that kids can go with adults and get out on to the water. There's more than one place to hire them from so check out which has the best deal on the day. Paddle Wanaka hire kayaks and SUPs from September to end April for approximately $40 for a double kayak for one hour. You can also try looking at BookME in case they have a cheaper deal. Make sure you're all wearing life jackets.
You might also want to check out the listing for Jet Boat rides offered by Lakeland Adventure which have been recommended.
There's a pier near the Lakeland Adventure building – you can't fish off here (no fishing permitted within 150m of the pier in any direction) but you can look for fish and eels (so big that even little kids should be able to spot them easily!) in the water. You can buy fish food from Lakeland Adventure or take along some meat for the eels from home.
The lake is cold, even in the summer! It usually doesn't deter the kids from paddling though and it's shallow for quite a way. There are lots of willows to sit under if the sun gets too hot in summer.
Bikes and scooters can be ridden along the concrete path that follows the waterfront as an easier way for little legs to get around. It's also fine for buggies.
The playground at Roys Bay Recreational Reserve (also known as the dinosaur playground because of its dinosaur slide) on Wanaka lakefront is really good, especially for younger kids. Check here for more information about the playground and reserve. There's seating, picnic tables and a free BBQ within the reserve area. A little further along opposite the lakefront is a skate park for riding bikes, scooters and skateboards on, and big kids are usually obliging!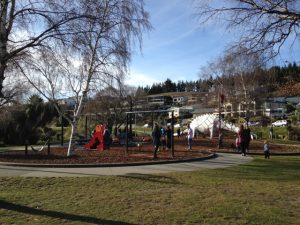 Related tags
Free
,
Otago
,
Outside
,
Playground
,
Wanaka
Contact Information
Web: http://www.lakewanaka.co.nz
Address: There are lots of access points to the Lake Wanaka waterfront. The main area though is off Ardmore Street with lots of carparks all the way along it between the road and the water.
The Dinosaur Playground (AKA 'Roys Bay Recreational Reserve') is near the corner of Lakeside Road and Ardmore Street. There are public toilets nearby.
The Skatepark is in Pembroke Park near the corner of Ardmore Street and Dungarvon Street.