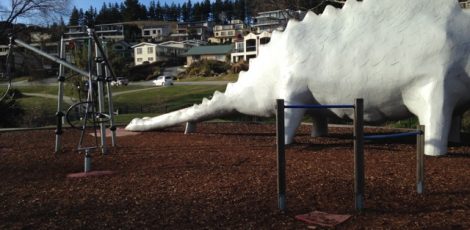 Overview
Suitable for all ages
This playground is right on the lake in Wanaka and is best known for its dinosaur slide but there's lots of other equipment here too. There's plenty for younger kids including a mini space net, seesaw, toddler swings, and small slide. For older kids there are a couple of structures which allow kids to climb and spin round, a set of swings which all go into the middle and bars for swinging off set at 2 different heights. There's plenty of seating around and a couple of picnic tables and grassy area.
Nearby in this reserve, there's one free BBQ and a river (fenced going through the playground but otherwise unfenced) with a bridge for playing 'pooh sticks'. A path running along the side of the lake goes through the park as well and this is suitable for buggies, scooters and kids bikes. There's also a big sculpture of a hand which kids seem to love climbing on. There are toilets, including a disabled one with nappy change facilities in the closest carpark off Ardmore Street.
Younger kids that are liable to run off will need to be carefully monitored as the lake and carparks are very close and the playground is not fenced.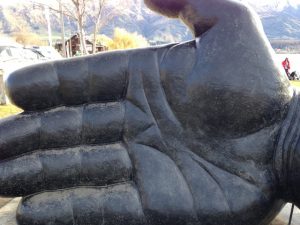 For other activities around the lake in Wanaka, look here.
Related tags
Free
,
Otago
,
Outside
,
Playground
,
Wanaka
Contact Information
Address: there are paths leading down to the playground from Lakeside Road (with street parking) and Ardmore Street (with several carparks along it).