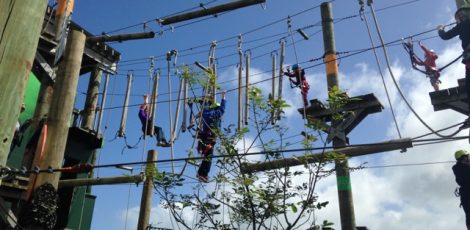 Overview
Suitable for ages 2+
Whether you're looking to fill time between flights or visiting as a destination in itself, this is a place to come to test your skills with ropes and fear of heights!
There are 2 rope courses here so it's good for all ages and abilities. All climbers are given a briefing so even if you haven't used belays and clips before, you'll have the chance to practise before you go onto your course.
The preschoolers course is just off ground level and an adult can supervise (up to 2 kids), help and encourage easily. To really help and supervise with the other course, an adult needs to pay and climb as well, as the courses are raised (there are 3 levels over the whole Croc Tower at 1.5m, 3m and 6m). Otherwise, adults are left to encourage from the ground and get a supervisor to assist if a child is really stuck! Staff are friendly and knowledgable.
Activities on all courses include zip lines, suspended wobbly bridges, walls that need to be traversed and structures that need to be climbed through. Climbers will be challenged because tasks that would be easy at ground level, are swaying in the air and taking each step requires trust in the rope system holding you. A certain level of upper body strength is needed for the Croc Tower but the height restrictions are even more important for climbers to be able to reach the clips.
Age/height/weight requirements are: Rocketeer Course 2-6 years, up to 115cm and 40kg max. Croc Tower 6 years + from 115cm but in reality it's good to be at least 120cm to reach the clips without help, 120kg max. Climbing when pregnant is not advised.
TOP TIP: you need to be wearing proper closed shoes like trainers to climb – no crocs or jandals. If it's been raining, supervising adults would benefit from wearing gumboots!
Related tags
Auckland
,
Auckland Airport
,
Outside
Contact Information
Tel: 09 275 8880
Web: http://www.rocketropes.co.nz
Address: 12 Tom Pearce Drive, Auckland Airport. There's a car park onsite and it's about a 10-15 minute walk from the domestic airport (1.3km), 15-20 minutes from the International Airport (1.6km).
Open: currently Saturday and Sundays only but check the website. The preschooler course 'Rocketeer' is a walk in course with no minimum number of climbers required and you can start at any time within the opening hours. For other courses, climbs start on the hour, every hour. Booking is strongly recommended during term time (when a minimum of 8 climbers is required) and essential during school holidays and weekends. Operating times can vary depending on demand but generally 10am – last climb starts at 2pm October – March and 10am – last climb starts at 2pm April – September. Allow 2 hours for the Croc Tower. You need to arrive at least 15 minutes before your climb starts to fill out disclosure forms.
Price: according to age and course. Kids 2-6 years Rocketeer Course $16. Kids 6-12 years $29, Teens 13-18 years $35, Adults $39 for either Croc Tower. Check prices here online as sometimes cheaper. If you're also planning to visit Butterfly Creek on the same day, climbers can show their wrist band there to receive half price entry into Butterfly Creek.