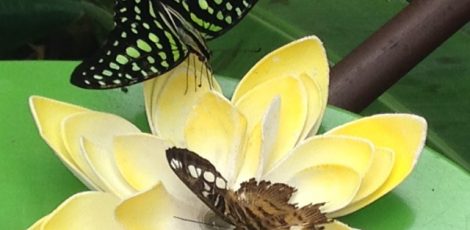 Overview
Suitable for all ages
Don't be fooled into thinking this place is just about butterflies – it isn't! There's also farm animals, a dinosaur kingdom, the Aquaria (2 big tanks, one with fresh water fish the other with tropical fish), crocodiles and bugs as well as the butterfly house!!
If you're short on time (perhaps you only have a spare hour before a flight) It's worth checking out the map here and deciding which parts you want to head to before you arrive. The different areas are surprisingly small so you might be able to fit more in than you think. If you've got kids who run through exhibitions, you can go through each section as many times as you want and even leave and come back on the same day.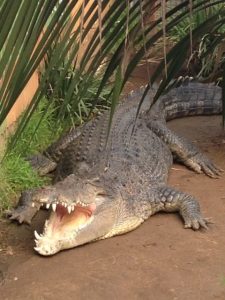 Most of the areas are interactive whether it's butterflies landing on you in the butterfly house or holding and patting the farmyard animals. There are different 'encounter' times listed here which is when certain animals are brought out of their enclosures so you can see them up close and ask the keepers questions. There's also a daily crocodile show.
The onsite cafe comes as recommended and is right next to the playground (slides, a tunnel, monkey bars and platforms to climb onto – mostly suited to kids up to about 6 years).
The train ride is popular especially with younger kids but it's a good idea to check the departure times so that you can factor this into your trip and not miss it if it's very busy. Train rides are an added extra on all tickets.
TOP TIP: If it's raining when you plan to visit, gumboots and raincoats are a good idea for the farmyard area. The petting area is undercover but getting there after lots of rain can be wet and muddy.
Related tags
Auckland
,
Auckland Airport
,
Outside
,
Rainy-day
Contact Information
Tel: 0800 132 101
Web: http://butterflycreek.co.nz
Address: 10 – 12 Tom Pearce Drive, Auckland Airport. It's a 10-15 minute walk from Auckland Airport. There is a free shuttle operating on an 'as needed' basis – just call Butterfly Creek and they'll come and pick you up (last airport pick up is 2.30pm term time and 3.30pm school holidays and weekends).
Open: Opening times vary at the moment so please see the website for the most up to date info.
Price: Prices are subject to change, so please check the full price list here. As a rough guide, Adults are $32 and Kids (3-15 years) $16, Kids under 3 are FREE. Family passes (2A+2K) are $85 with additional kids charged at $14 (only valid with a family pass). Train rides are additional to all ticket types. Check out any special deals here.