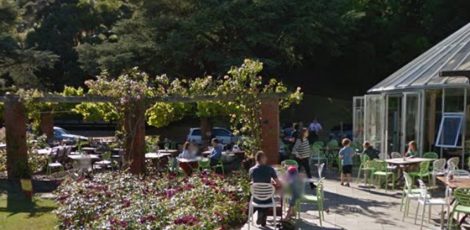 Overview
Suitable for all ages
Set in the Rose Garden, which is one part of the Botanic Garden, this cafe has been serving up breakfast and lunch in beautiful surroundings for years! This is a great place for families to eat, whether it be for a snack or full meal. They are very child friendly, have one of the healthiest kids' menus in Wellington (while the cafe does serve chips, they're not automatically added to any of the kids' dishes) and have great options for turning a visit to the Gardens into a half or full day trip. There are 5 high chairs available.
There's inside seating for when the weather isn't great and you can tie in walking through Begonia House and visiting the fish in the tropical house with a cafe visit. If it's not blowing a gale there's ample seating outside and you can wander around the Rose Garden smelling the roses and choosing your favourite colour in the summer months, or feeding the ducks in the centre of the Rose Garden or to the side in the Japanese garden when you're done eating.
There's also the Dell just behind the café, which is a grassy area, perfect for kicking a ball around or doing performances on the stage! It also makes for a sheltered spot for a picnic in a northerly! Picnic cafe (as the name suggests) do takeaways on food and drinks if you'd rather not be confined to tables and chairs.
Other Botanic Garden activities, including the playground and cable car ride are covered here.
Related tags
Cafes
,
Free
,
Outside
,
Rainy-day
,
Wellington
,
Wellington City
Contact Information
Tel: 04 472 6002
Web: http://www.picniccafe.co.nz
Address: Off Glenmore Street, Begonia House, Lady Norwood Rose Garden, Botanic Garden, Wellington. Some P120 parking is available in the Rose Garden, near Anderson Park – go through the main gates off Glenmore Street. More P120 and coupon parking (which allows 2 hours free) all along Tinakori Road and Glenmore Street but watch out for 'residents only' spaces.
Open: daily 8.30am – 4pm (closed Christmas Day)
Price: Entrance to the Botanic Garden, Begonia House etc is free. Obviously food and drink at the cafe need to be paid for!