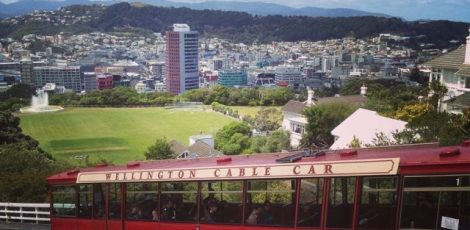 Overview
Suitable for all ages
Kids love this funicular railway which travels between the main shopping street, Lambton Quay, up through the Botanic Garden to Kelburn and back again (if you want). The red carriages are an iconic Wellington sight.
The two 100m tunnels now have changing light displays from 9am to make this attraction more unique. There is an indoor/outdoor viewing platform at the top giving views over the city and harbour if the weather isn't too awful!
Consider taking the cable car up and then walking down via any or all of; the Space Place Observatory, the playground, the duck pond, Rose Garden, Begonia House, Picnic Cafe and the cemetery. Alternatively, you can use the car cable to access the free shuttle bus that leaves Upland Road for Zealandia.
Another option, especially if it's raining, is to use the cable car to travel up the hill, use the undercover lookout at the top, visit the free cable car museum and/or Space Place Observatory (a short 100m walk) and then travel down again by the cable car.
Related tags
Outside
,
Rainy-day
,
Wellington
,
Wellington City
Contact Information
Tel: 04 472 2199
Web: http://www.wellingtoncablecar.co.nz
Address: There are 5 stops where you can board or exit the cable car. The main stop is at the bottom accessed via Cable Car Lane at 280 Lambton Quay. The upper most station is near the Upland Road entrance to the Botanic Garden in Kelburn. Check the map here for the other stop locations.
Open: daily running every 10 minutes. Monday – Friday 7.30am – 8pm, Saturday 8:30am – 9:00pm, Sunday & public holidays 8:30am – 7:00pm. Note that the tunnel light shows only operate from 9am.
Price: Adult oneway $5/return $9. Kids oneway $2.50/return $4.50 Under 5s are FREE. Family Pass return $22 (2A+up to 4K).
You can pay with a Snapper card if your journey starts or finishes at Lambton Quay
Cable car museum is small but free – good place to have a quick peak if you're wanting to escape a rain shower open 9.30am – 5pm daily. Phone: 04 475 3578