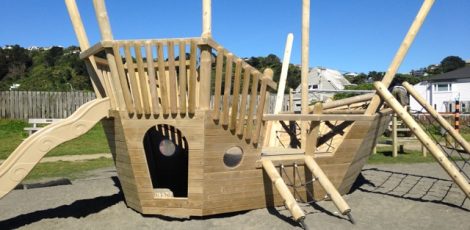 Overview
Suitable for all ages
This playground, situated right near the beach in Seatoun, was upgraded in 2016 and now has a nautical theme. The biggest piece of equipment is a pirate ship with a wobbly bridge, slide, rope ladders and hiding holes. It's surrounded by sand which kids can also play in. Other equipment includes a crows nest to climb up to using rope ladders, monkey bars, swings of various varieties including toddler, regular and a bucket swing. There's a seesaw, roundabout and a piece of equipment aimed at toddlers including a mini slide, tunnel, abacus and chain climbing ladder.
There are toilets and the playground is right next to a shingle beach which is dog friendly in the winter months (dogs on lead). There's plenty of seating and a grassy area suitable for a picnic. To one side of the playground there's also a memorial to the Wahine disaster in the form of a huge anchor and chain which provides another thing for kids to climb and slide on.
This playground is well situated if you're planning to walk to the battlements at Beacon Hill Reserve and/or can be tied in with a trip to Chocolate Fish Cafe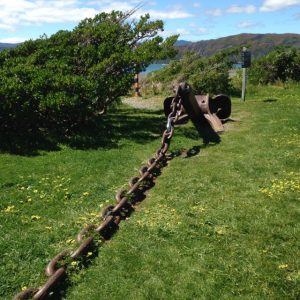 Related tags
Free
,
Outside
,
Playground
,
Wellington
,
Wellington City
Contact Information
Address: Churchill Playground, Marine Parade, Seatoun. There are a few car parking spots on Marine Parade near the reserve but also closer to the playground on Forres and Monro Streets.