As a child, eating out was only something we did as a birthday treat and the choice (in the UK) was an equivalent to Valentines or the local Italian 'tratorria'. Nowadays families seem to eat out more often and the choice of venue is vast but it's not always pleasurable with kids. Having your children misbehave at a restaurant can be painful for everyone. So here are a few tips and tricks to have up your sleeve that can help make going out to eat fun for everyone.
1. Timing:
If you've never taken your kids into a café or restaurant before, try going out for morning tea to see how they cope. It's cheaper than a meal, usually arrives at your table quickly and there's no need to linger after you've finished if things are going pear shaped! If everyone has coped well with morning tea, you might want to try going out for breakfast. Often kids are at their best first thing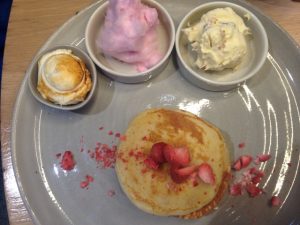 in the morning and if you can find a café that opens early, it won't need to be for a 2nd breakfast! Whether for breakfast, lunch or dinner, don't leave it till your kids are already starving to arrive at a café as ordering and getting your food can take a while. To speed things up, try looking for an online menu before you leave the house so you can order kids' food when the waiter takes the drinks' order and the kids can start eating more quickly. If behavior is deteriorating towards the end of the meal, don't linger – try to time it so you leave before a meltdown, no matter how much you'd like to stay and enjoy another glass of wine!
2. Location: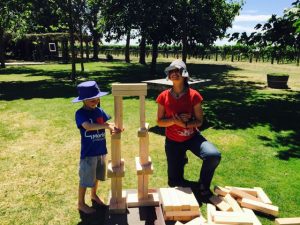 If you have a variety of places to choose from and your kids can't sit still, try and find a café that has a play area or outdoor space for them to escape to so you don't have the worry of them disturbing other diners. If there's no such café or restaurant around you, think about one adult going for a little walk down the street with a restless child after your order has been placed or research if there's a playground very close by. It's also a good idea to pack a few items to keep your kid(s) occupied….
3. What to take with:
Most kids will be happiest if they have something to do at the table. While lots of places now offer activities like colouring in, packing a few things in a bag will help everyone to enjoy the outing. Play dough is fun for all generations – make sure you have enough for the adults as well as the kids! For older kids, have a play dough making competition e.g. 'make an item of food' or 'make an animal'. Take books to read, an activity book to do, a card game, or some paper and colouring pens. We've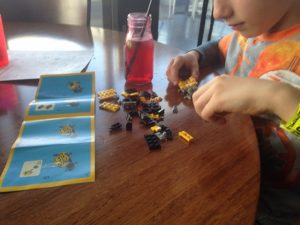 even taken out small Lego sets for construction at the table but be warned that this works best if there's space for retrieving lost bricks under the table! For younger kids, if you'd normally use a covered cup for drinking, a small spoon or fork for eating and a bib, take these things with you so the experience is as familiar as possible and mess is minimalised.
4. Allergies and food choices:
If your kids are fussy or have intolerances, it's worth looking at a café's menu online or even giving them a call to make sure there's something for everyone to eat. Don't forget to look at side dish options as sometimes these can be more appealing to a child. If there really isn't anything for your child to eat, ask if it's OK to take food for them. Most places won't mind if you're ordering food for others in the party but it's always polite to ask first before producing your BYO lunchbox!
5. Seating:
If there's the option, booth or bench seating often works well with kids as it can give them a bit of extra space to move around. If you have more than one child with you, put them next to each other if they're likely to play well together but separate them if they're going to irritate each other.
And Finally:
Be conscious of other diners, a screaming child isn't pleasant for anyone – take them out, even if it's just to sit in the car.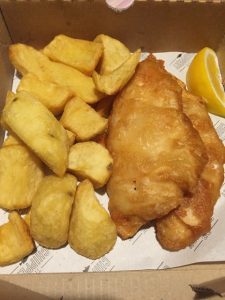 If your child really isn't ready for a café or restaurant – get takeaways and if the weather is up to it, take your food down to the beach or a playground so at least someone gets the night off cooking and doing the dishes!
Do you have any suggestions of what works for your family?