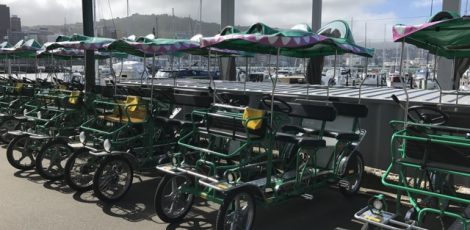 Overview
Suitable for all ages
If it's not raining, the waterfront is a popular place to walk, scoot or cycle along for the whole family. If you don't have wheels, you can rent a 'Crocodile Bike' for a surprisingly fun family activity.
While kids can be strapped in and take turns ringing the bell, they'll need to be quite tall to actually help with the pedalling so make sure there are enough adults in your party! There are lots of places to stop off along the way if you need a break from pedalling, including playgrounds near the Freyberg Pool on Oriental Parade and the grassy area and playground at Waitangi Park (near where you pick up the crocodile bike). You can grab a takeaway coffee and snack from numerous places along the way including Poneke Cafe on Clyde Quay (opens at 7am weekdays and 8am weekends). The Waka (Maori canoes) are also worth taking a break to see. These are housed in the Wharewaka on Odlins Plaza and can be viewed through big glass windows even if it's not open to the public.
Good ice cream stopping points are Kaffee Eis at Frank Kitts Lagoon (open from 9.30am) and Gelissimo Gelato on Odlins Plaza, tucked under the stock exchange building.
Related tags
Outside
,
Wellington
,
Wellington City
Contact Information
Tel: 04 298 6680
Web: https://theenormouscrocodile.wordpress.com
Address: Unit 5/20 Herd Street, Wellington CBD opposite Chaffers' Dock. There's paid parking on Herd Street and P120 at the weekends along Oriental Parade.
Open: daily during the school holidays otherwise just Saturday, Sunday & Public Holidays 10am – dusk, weather permitting.
Price: Small bikes $14/half an hour, $24/an hour. Large bikes $24/half an hour, $40/an hour.