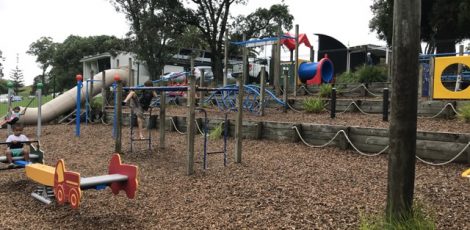 Overview
Suitable for kids up to about 7 years old
Warkworth is a popular service centre for the surrounding beach towns and SH1 passes just nearby and can be a good stopping place if you're on a longer journey North of Auckland. This playground is a good place for younger children to run off some energy.
This playground is right in the middle of town and right by the river, making it easily accessible via the river walkway especially with scooters, bikes or buggies.
This fully fenced playground is great for younger kids as all the equipment is mini-sized. There's a seesaw, swings, little monkey bars, small ladders and bridges all close to the ground. There are toilets near the top of the playground and the library just nearby if the weather turns while you're playing.
Related tags
Auckland
,
Free
,
North Auckland
,
Outside
,
Playground
Contact Information
Address: The end of Neville Street, on the riverside (north), Warkworth. It's by the I-Site. There's parking for 60 minutes (P60) on Neville Street and various other side streets off Baxter Street. Check carefully though as some of the spaces are only for 10 minutes (P10).