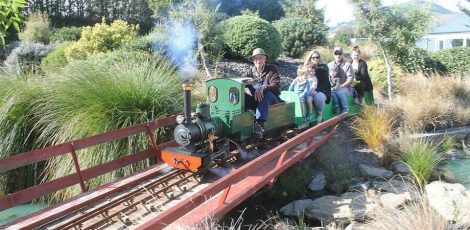 Overview
Suitable for all ages
It might seem strange to head to a Garden Centre for entertainment but Wals is a plant shop with a difference! The Fun Land and cafe make it a popular family destination with miniature golf and trains (running from September to April) both being very popular. There are 18 holes that make up the mini putt and you can expect to complete a round in about 45 minutes. It's suitable for all ages although kids of around 5+ will possibly have a better understanding of what's needed and the stamina to get round the whole course. Obviously this depends on your kids though.
The miniature train is seasonal (closes in the winter), weather dependent and even at the right time of year, they don't operate every Sunday – always check their Facebook page before you go to see if the trains are operating. The track is over 1km and goes over bridges and round the sites of the garden centre. Head to Saddle Hill Railway Station within the garden centre to buy your tickets and hop on board.
There's also a cafe onsite which comes recommended by locals! They have their own Facebook page which you can check out for public holiday opening hours etc here. Topiary Cafe has cabinet food, a breakfast and lunch menu and a kids' menu, so plenty to choose from. They pride themselves in serving great tasting, uncomplicated food so there should be something for everyone.
Pick up some plants and veggies, have family fun and a meal or snack – it's all here at Wals!
If your kids aren't tired enough, you might want to tie a visit to Wals in with a visit to Memorial playground, also in Mosgiel.
Related tags
Cafes
,
Dunedin
,
Otago
,
Outside
Contact Information
Tel: 03 484 7319
Web: http://www.walsplantland.co.nz
Address: 109 Bush Road, Mosgiel, Dunedin (about 15 minutes drive from the city centre).
Open: daily 8.30am – 5.30pm
Price: Mini Putt Adults $10, Kids $7, Students & Seniors $8.50, Family Pass $35 (2A+3K) or $30 (2A+2K). Miniature Trains $2.50/ride.