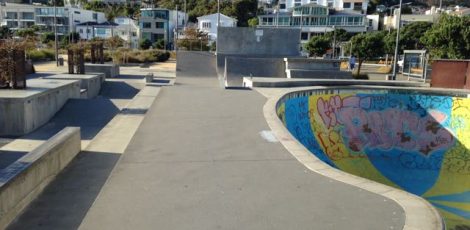 Overview
Suitable for Kids able to scooter/skate/balance bike
Waitangi Skate Park is home to lots of skate boarders, kids on scooters and even those on balance bikes at the weekends. It's a great place for kids to hone their skills with older kids being very mindful of younger ones. But if your kids really lack confidence or no sense of others, it might be best to take them early in the morning when you can have the place to yourselves (e.g. until about 9.45/10am). Also great for watching people with more experience and expertise – just be careful where you sit down, as you might end up in the path of someone on wheels!
Related tags
Free
,
Outside
,
Wellington
,
Wellington City
Contact Information
Address: Cable Street, Wellington. Opposite New World supermarket.
Parking available on Cable Street – free for 2 hours Saturday and Sunday. Parking charges apply at other times (currently $4/hr). If parking during the week, it's cheaper to park on Oriental Bay (after Herd St and free all the time for 2 hours after the Freyberg pool) and skate/scoot/walk back!