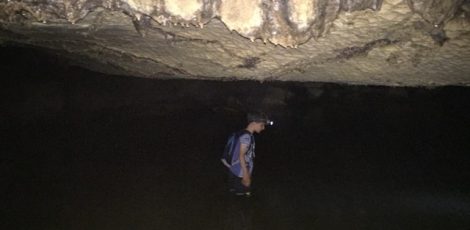 Overview
Suitable for kids that are stable walkers and everyone else!
It's 12km along a mostly gravel road that at times twists and turns – not ideal for anyone who gets car sick but what awaits you at the end of the drive, is an amazing cave that's easily accessible. Parking is just off the road next to a grassy reserve. Walk across this to a sign and the entrance to the cave should be visible from here. The path into and through the cave is a mix of slippery mud and stony stream, either way, you need to take care that you don't fall as well as checking that little kids are OK too. See the tips below to make your journey through the caves a little easier.
Shine torches to help guide you through and spot the stalactites and stalagmites, taking care not to hit your head on low hanging rock. But don't forget to also turn your torches off every now and again to fully admire the glow worms and otherwise complete darkness. The further you go in, the more glow worms there are with an impressive number around 50 metres from the entrance. Unless you have caving experience, this is probably as far as you'll want to go but even this far in you can still get a really good feel for the caves and have a great adventure!
As you're going to get at least a bit wet anyway (your feet and also the cave constantly drips water), this is a great rainy day or bad weather activity. The caves are completely sheltered from the wind and dripping water is a lot less than a rain shower!
Top Tips:
Wear shoes that can get wet but also potentially caked in mud. Rock pooling shoes or hiking boots with chunky soles would both work. Alternatively, you can enter in bare feet so long as you can walk over the stones as you're going through the water.
Wear a head torch so you can be hands free.
It's so close to the carpark, that you don't really need to take anything else with you apart from a torch – hands free to help each other really is the best way.
Go slowly!
There's a toilet in the carpark with a push button shower to clean off muddy feet etc.
This car park also serves the Waipu Caves track which winds up 2km through the bush to a scenic view point. Don't be fooled into thinking that there are more caves at the end of this walk though – there aren't!
Related tags
Free
,
Northland
,
Rainy-day
,
Waipu
Contact Information
Address: Waipu Cave Road, Waipu. Approximately 12km west of the main SH1. Parking is signposted and there's a toilet here.