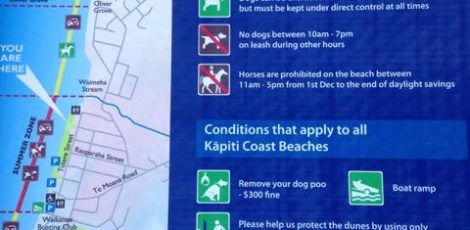 Overview
Suitable for all ages
The beach at Waikanae is long, wide and sandy. Great for strolls, buckets and spades and even, if the tide is out, kids riding bikes! If it's warm enough, the sea is great for boogie boarding but there aren't any lifeguards so you'll really need to supervise kids in the water and look out for rips.
The Kapiti Cycle Track which goes all the way from Mana in the south to Peka Peka in the north, goes through Waikanae. The tracks around Waikanae are great for family cycling including the Waikanae Estuary (details here) and the Waikanae Riverbank (details here). Both are flat and either off road on shingle tracks or use quieter streets. They are also suitable for walking.
The Waimea Domain is opposite the Long Beach Cafe and has a small but good playground, lots of shade provided by big old trees which also make great natural 'climbing frames'! There are public toilets and a well stocked Four Square dairy as well.
Related tags
Free
,
Kapiti Coast
,
Outside
,
Playground
,
Waikanae
Contact Information
Address: Beach access and cycle/walking tracks are available all along Tutere Street, including the Waikanae River and estuary (southern end), the Waimea Domain and Four Square Dairy(northern end). Beach access then continues to the north along Field Way.