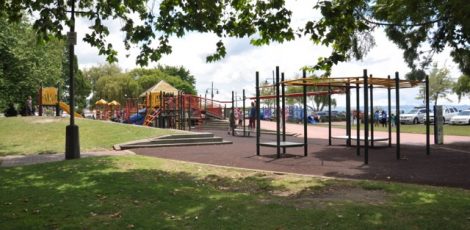 Overview
Suitable for all ages
The equipment here is fairly traditional – swings, slides, monkey bars, things to climb and balance on but there's a reasonable range including a section for younger kids (not fenced or sectioned off). As a whole, there should be something for a good range of ages. There's also a large grassy area for ball games, running around or kite flying. BBQs or BYO picnics can be enjoyed under some big old trees that surround the playground.
There's also a café nearby which does takeaways. You can walk, bike or scoot along the lakefront, right around to Government Gardens, and further.
Worth noting that the only 'barrier' between the playground and the water is the carpark, so kids likely to run off will need to be monitored carefully.
Related tags
Bay of Plenty
,
Free
,
Outside
,
Playground
,
Rotorua
Contact Information
Address: Lakefront Drive (right on Lake Rotorua lakefront). Car park just in front of the playground.