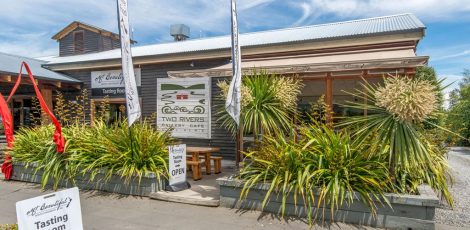 Overview
Suitable for all ages
An hour south of Kaikoura and an hour and a half north of Christchurch, this makes a great stop on a journey along SH1.
Mount Beautiful Two Rivers is actually a cafe, wine tasting  room and gallery, although it is the cafe that has specifically been recommended. The food is always homemade, fresh and tastes great with the option of a menu, including kids' menu and cabinet food that changes daily. Have a look at an example of the menu here. The staff are friendly and accommodating. There's outdoor and indoor seating to choose from with artwork hanging on the walls inside and sculpture to admire while you're waiting for your order in the garden. Outdoor seating is both covered and uncovered and there are highchairs available.
Related tags
Cafes
,
Canterbury
,
Cheviot
Contact Information
Tel: 03 319 8505
Web: http://www.tworiverscafe.co.nz
Address: 11 Hall Street (SH1), Cheviot, North Canterbury. Carpark as well as street parking outside.
Open: daily 8am – 5pm with wine tasting from 10am.