Overview
Suitable for all ages
This playground is set within a reserve (which was once home to NZ's first camping ground!) and a general theme of 'tree tops' is reflected in the high wooden structures and crows nests on the rope climbing structure. This playground seems particularly well suited to kids who like climbing and aren't afraid of heights!
Walk along a mid air wobbly bridge (enclosed by netting!) or challenge someone to a race on the dual flying foxes. There's also a bucket swing, long tunnel slides and a tree house with slide exit.
For younger kids or those that aren't confident climbers, there's a more traditional preschoolers' area opposite the wooden playground.
There's parking nearby, wooden seating and lots of space for running around. Some large, old trees and grassy areas provide some shade for picnics. Because of it's location within a reserve, there are paths suitable for scooting and bike riding. It's also very close to West Wave Recreation Centre (although no direct recommendation has been received for this swimming pool yet) if you want to tie in a swim and playground visit. Send me a message here if you've been to West Wave.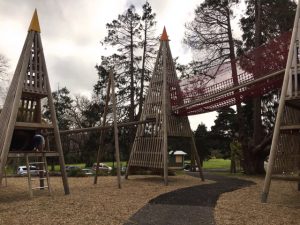 Related tags
Auckland
,
Auckland City
,
Free
,
Outside
,
Playground
Contact Information
Address: 2 Claude Brookes Drive, Henderson, Auckland. This playground isn't signposted until you're almost there, so if new to the area, it's a good idea to have GPS turned on!