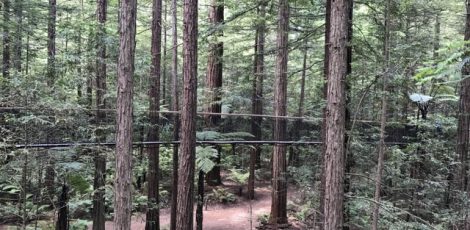 Overview
Suitable for all ages of walking children/adults (see below)
If you've never walked up high among trees, this is a great activity. It is a big outlay for an activity that might not take very long but it's quite a unique experience.
20 metres up, the walkway is made up of 28 bridges, suspended between 22 majestic Redwoods. Look up and admire the sky peeking through between these tall +100-year-old California natives. Look down and you'll see the covering of New Zealand native bush.
This isn't a long walk at just 700 metres and people of all ages can do it but please note, it's not buggy or wheelchair friendly. Everyone participating needs to be able to walk the whole length by themselves so carrying babies is NOT permitted even in a back or front pack.
Lots of interesting tree facts and walk related information on the boards at the 'living decks' that surround the tree trunks in between the bridges. Look out for the pine cone collection! The walk can take around 30 minutes to complete depending on how quickly you walk (no running allowed) and how many of the info boards you stop at.
The walkway is open in all weather except severe wind and lightning storms.
You can also walk along the paths on the ground for free! This is a great place to come to escape the sun on a very hot day as the forest provides a great shelter. There's a 3.6km 'Mokopuna Loop walk' which is completely flat and should be fine for a robust buggy. It's not that well sign posted, so  ask for a map at the I-Site before you go. Biking is another option for ground level exploration of the forest. Again check with the I-Site for routes that might suit your family.
Night walks are available for the treetop walk as a permanent, year round feature. The trees are lit up with huge, designer lamp shades and different coloured lights over the course of the walk. It's really stunning and something your kids should enjoy. The lights are turned on at dusk so times vary according to the season. If you go for dusk rather than fully dark, you can enjoy the peace and quiet of the forest and still appreciate the full darkness by the time you leave.
Related tags
Bay of Plenty
,
Outside
,
Rotorua
Contact Information
Tel: 07 350 0110
Web: http://www.treewalk.co.nz/en_US/
Address: Long Mile Road, Whakarewarewa, Rotorua. There's car parking near the I-Site and visitor centre and all along Long Mile Road.
Open: from 9.30am – 9.30pm Sunday to Thursday with night time lights turned on at dusk. Last entry Friday and Saturday is 10pm.
Price: Adult $30, Kid $20 (5 – 15 years), under 5s free, Family Pass $65 (1A+3K) or $89 (2A+3K). These are for day time OR night time canopy walks. There are also day/night combo tickets available if you intend to go twice in one day (must be used on the same day) see here for other prices.