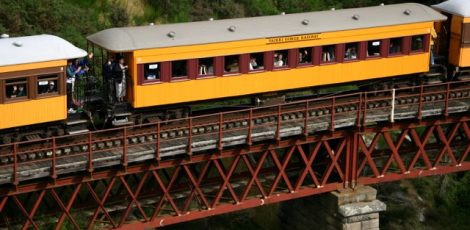 Overview
Suitable for all ages although this is a 4 hour return trip (minimum) so see below.
Leaving from the old central Dunedin train station, the trains that travel along the Taieri Gorge track are a mix of old and modern carriages pulled by diesel electric engines.
The route climbs up through the gorge which provides for stunning scenery over Taieri Gorge River (only seen from a train trip) and much to the delight of kids, means the train passes through 10 tunnels and over countless bridge and viaducts! There is live commentary during the trip providing info on the surrounding scenery as well as the building of the train track.
The shorter of 2 routes is still a 4 hour return trip to Pukerangi, including various stopping points on the way, during which you can get off the train to take photos and stretch your legs. When the train reaches Pukerangi, the engine is moved from one end of the train to the other for the return trip. This is something that passengers often enjoy watching as well. The longer trip goes all the way to Middlemarch – a small settlement at the end of the line. This is a 6 hour return trip.
TOP TIP: Even the shorter journey is still a long time to spend on a train and while it depends on each kid, the chances are, they'll be eager and engaged for the outward trip but in need of snacks and an activity for the return journey. You might want to bring colouring, books or small games with you. You can take your own food and drink and there's also a cafe-bar on board that you can buy e.g. sandwiches, cheese rolls (the iconic snack of the South) and pies from.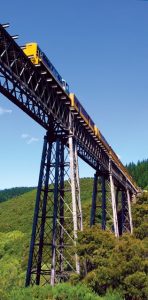 Related tags
Dunedin
,
Otago
,
Outside
,
Rainy-day
Contact Information
Tel: 03 477 4449
Web: http://www.dunedinrailways.co.nz
Address: Trains depart from Dunedin Railway Station, Anzac Avenue, Central Dunedin
Open: There is generally a train going somewhere everyday of the week with summer having more frequent services and different destinations operating on different days. Check the timetable online here although it's subject to change and it's always a good idea to phone before you make plans.
Price: Train tickets to Pukerangi cost $105 (Adult) $28 (Kid). Train tickets to Middlemarch are $120 (Adult) and $30 (Kid). Prices do vary according to the season so it's best to phone to check.