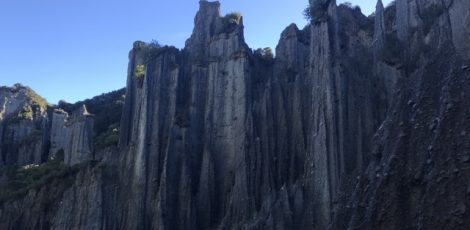 Overview
Suitable for possibly 5+ but will depend on your child(ren)
Between Lake Ferry and Cape Palliser, just off the main Cape Palliser Road are the awesome  Putangirua Pinnacles. There are a couple of walking routes 2 of which start/finish from the main carpark (where there's a toilet and map). About 500m from the start, the signpost shows two options. Our suggestion is to tackle the uphill route to the top lookout first. It's a mixture of track and steps (not suitable for buggies but OK for kids in carriers, so long as the adult carrying is sure-footed!) and can be very wet and muddy under foot if it's been raining. It's steep in places and mostly uphill for the whole 1.5km but should be very manageable for good walkers of all ages taking around 30-45 minutes for most. This route leads to a platform from which you can look down and over the pinnacles.
From here you can return the same way, do a loop via the Te Kopi DOC accommodation which keeps you overlooking the top of the Pinnacles (roughly 2 hours return). Or, you can return via the riverbed. There are lots of reasons to do this last option – it allows you to do a loop rather than returning the same way, it allows you to see the Pinnacles from both the top and bottom, it's a downhill, relatively quick journey of about 20 minutes, all the way to the riverbed so perhaps less complaining?! And finally, the riverbed walk is likely to mean you get wet feet at some point and if this is the return journey, at least you are heading to the car where you've hopefully brought a change of shoes and possibly even clothes!
Once you get down to the river, it's well worth walking upstream. You'll be rewarded with views to both sides of the Pinnacles and it's a very different view to the one from the top. Just remember though that you'll have to return the same way and then more to get back to the carpark. And it isn't easy walking as there are no carved out tracks, rather it's loose rock and rubble all the way. If you or your kids would struggle with this type of track, I'd strongly suggest choosing an alternative return. If, however, your kids love an adventure, this is the route for you!
You will need to be aware of what the weather has been like in the day/days leading up to your visit. Water levels and currents will be affected by heavy rain and although there are many places where you can avoid a river crossing by going through the inland undergrowth, you will ultimately need to go through the water at some stage. If it's been dry these could be small streams, but at other times, they'll be fast running torrents of water. Read the tips below if you'd like to tackle this route!
Top Tips:
While you'll need water, food etc, try to put everything in a backpack so you can be hands free for helping each other / catching a stumbling child.
Don't let your children run on ahead. If there's been rain in the days before your visit, you'll need to decide at each river crossing, the best path through the water. Take it slowly, cross at the narrowest parts and remember stones and other things protruding out of the water are likely to be slippery if wet. Some might be wobbly too!
Have a full set of clothes to change into, including shoes, for all children waiting for your return in the car. Adults could also need a change of socks and shoes and possibly clothes if you've slipped.
In the colder months and even just early morning on any day, the riverbed can be extremely cool and the sun might not penetrate where you'll be walking at all. Take an extra layer.
During summer when the sun is high, there might be little or no shade in the middle of the day. Take hats and sunblock.
Your kids may well be shattered after this trip but it's well worth driving the extra distance to see the fishing boats at Ngawi where you can also pick up basic supplies from the dairy. This is around 20mins drive. A further 10 mins drive will bring you to the seal colony although you can pull over before this as seals are often basking on the rocks a kilometre or so before the seal colony car park.
Related tags
Free
,
Lake Ferry/Cape Palliser
,
Outside
,
Wairarapa