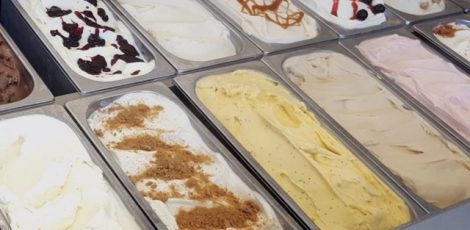 Overview
Suitable for all ages of ice cream lovers
People come from far and wide to enjoy the gelato at this place because, some would argue, it's about the best in the city! There are classic flavours like chocolate and vanilla but lots of interesting flavours to challenge the taste buds as well, like pistachio or caramelised fig. The flavours change regularly and the popular ones can sell out well before the shop closes, so be prepared to try something new if you're visiting later in the day!
All the gelato is made in Christchurch using fresh, natural and where possible, local ingredients – no additives or chemicals here which is why it tastes soooo good! If you're buying for someone with allergies, they'll know exactly which flavours to avoid and they generally have four non-dairy options available on any given day. As well as cones (including little kiddie cones) and tubs, there are also takeaway packs that can be filled with up to three flavours so you can enjoy Gelato Lab even when the shop is closed.
Related tags
Cafes
,
Canterbury
,
Christchurch
Contact Information
Tel: 022 599 5496
Web: https://www.facebook.com/TheGelatoLabNZ/
Address: 5/132 Opawa Road, Christchurch, approximately 5km from the central city. There is some restricted parking outside and unrestricted parking round the corner on Hawford Road.
Open: the opening hours change according to the seasons and day-to-day weather. It's always a good idea to check their Facebook page here before planning to visit. Generally speaking when open, it's from 1pm – 5.30pm (midweek) and until 7.30pm Friday, Saturday and Sunday.