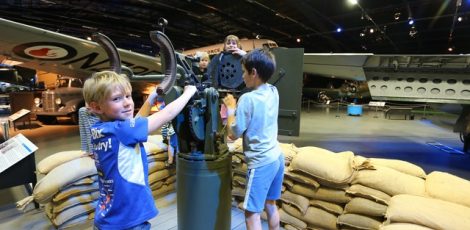 Overview
Suitable for all ages
This is a little (or big) boys delight, although girls love it too! Filled with planes and helicopters to look at and get into, it makes for an excellent half day adventure. It has interesting exhibitions, that are usually geared to kids 5+, but that younger ones can also enjoy. There's a café onsite which gets mixed reviews (let me know what you think here) and you can get a guided tour if you want to find out lots of detail.
Highly recommended is a scavenger hunt available from the main desk. It's aimed at kids aged 3-12 year olds, and is especially good if your kids have visited the museum a number of times and need to engage in a different way. The scavenger hunt costs $6 per child but includes choosing a prize at the end.
Related tags
Canterbury
,
Christchurch
,
Free
,
Rainy-day
Contact Information
Tel: 03 343 9532
Web: http://www.airforcemuseum.co.nz
Address: 45 Harvard Ave, Wigram, Christchurch. Parking available at the front of the museum.
Open: daily 10am – 5pm (closed Christmas Day).
Price: Entry to the museum is free but the kids' scavenger hunt is $6 per child (see general info).