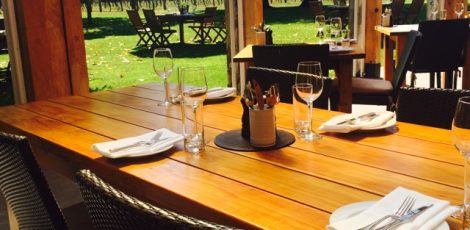 Overview
Suitable for all ages
This is a lovely place to come for a special family meal out. The restaurant at the winery is open and airy with friendly staff that are willing to accommodate kids. There's a kids' menu (pizza and fish and chips) which comes with an ice cream for dessert and colouring in for when the kids are seated but if you can go outside, there's plenty of grass for running around and giant Jenga blocks and petanque to play.
The general menu has some interesting items on it and has the option for small or large plates to be shared, giving more adventurous kids the opportunity to try things they might not have eaten before. And of course adults can sample the wine while they relax! All in all, this makes for a lovely setting for a relaxed lunch with delicious, fresh food.
Related tags
Cafes
,
Hastings
,
Havelock North
,
Hawke's Bay
,
Napier
Contact Information
Tel: 06 879 7602
Web: http://teawacollection.com/pages/restaurant
Address: 2375 State Highway 50, Hastings. It's a 15 – 20 minute drive from Napier, Hastings and Havelock North. Parking available.
Open: daily. Summer (Labour weekend to Easter weekend) Full menu 11am – 3pm. Winter (After Easter weekend – just before Labour weekend) reduced menu Monday – Thursday 12pm-3pm and full menu Friday – Sunday 11am – 3pm. Check the website for the full and reduced menu.
Closed the following Public holidays – Christmas Day, Boxing Day, New Years' Day, Good Friday, Anzac Day and Hawkes Bay Anniversary Day (end of October).