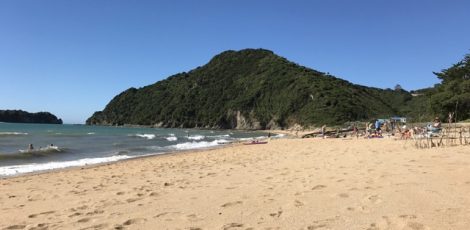 Overview
Suitable for all ages
Tucked at the Eastern end of Golden Bay and roughly 15 minutes drive from Takaka, this is a quintessential golden sand beach. Waves for boogie boarding, course sand for playing in or take advantage of it's length and go for a stroll, it's worth bypassing the other beaches along the way to head for this one! It's worth noting that the wind can pick up in the afternoons which can increase the swell. Take care because this isn't a patrolled beach.
If you're wanting a break from sand, head to Cornwall Place where there are access points to a grassy reserve.
In the height of summer you can hire kayaks, SUPs etc and a Mr Whippy visits but outside of the summer, you'll need to take your own supplies. Takaka has the closest supermarket.
Related tags
Free
,
Golden Bay
,
Outside
,
Recently Added
,
Takaka
,
Tasman
Contact Information
Address: the beach can be accessed off Cornwall Place and Tata Beach Esplanade.