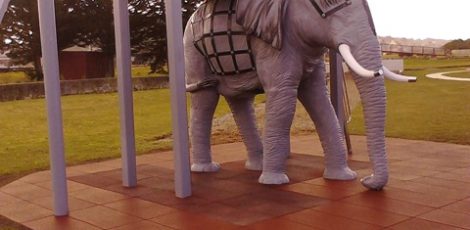 Overview
Suitable for all ages
This playground is like no other with art and sculpture being very central in the equipment, making it an awesome sight for kids and adults alike. A giant Penny Farthing that's part of the frame for the swings; an elephant with a hut at the top. Other equipment includes a giant hamster wheel and flying fox.
Toilets nearby and coffee can be picked up at the The Galley Cafe (see contact info for cafe opening hours).
Related tags
Free
,
Oamaru
,
Otago
,
Outside
,
Playground
Contact Information
Address: At the end of Esplanade, Oamaru. Parking available on Esplanade and the end of Wansbeck Street.
The Galley Cafe is situated at 1 Esplanade, Oamaru. Open: Winter daily 9.30am – 5pm and Friday 9.30am – 7pm. Summer Monday to Thursday 7.30am – 4.30pm, Friday 7.30am – 5pm, Saturday & Sunday 8.30am – 4.30pm.