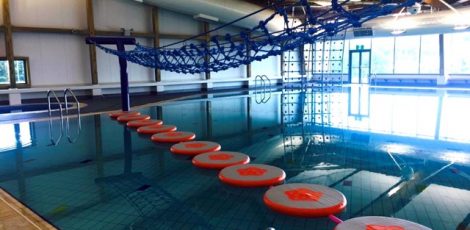 Overview
Suitable for all ages
Opened at the end of January 2017, this pool seems to have lots of interesting activities on offer for kids.
Within the leisure pool there's a climbing wall which kids can climb before falling off into the water. There are lily pads for kids to practice their balancing skills on, as they try to cross the pool holding on to the rope ladder hanging above the lily pads. Younger kids have their own dedicated area with ankle deep water, a small slide, climbing area with sprays.
You can get a glimpse of what's on offer with this video.
Some things to bear in mind: The changing rooms, shower area and toilets are unisex. The main showering area is also communal with only a few private showers on offer.
The pool is perhaps smaller than you'd imagine for a newly built one and during the holidays/weekends it can be busy and you'll need to wait in line to get in if it reaches maximum capacity (1 out, 1 in system) as well as waiting to use the water features.
Top Tip: take a $2 coin for a locker as there really isn't anywhere to leave your things, especially if it's busy. (Lockers are $2/2 hours).
Related tags
Auckland
,
North Auckland
,
Pools
,
Rainy-day
Contact Information
Tel: 09 484 6205
Web: https://www.aucklandleisure.co.nz/locations/north/albany-stadium-pool/
Address: Stadium Drive, Albany, North Shore. Car parking onsite although if there's an event on at the stadium, this might be restricted.
Open: Monday to Friday 5.30am – 7pm. Saturday, Sunday & Public Holidays 8am – 7pm.
Price: Adult (17 years+) $7.90, Kids 16 years and under FREE, Spectator and Adult supervising a kid $1 (lockers are $2/2 hours and are the only place to really leave your belongings).