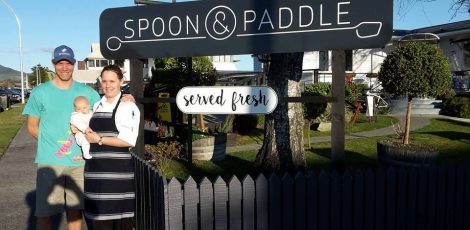 Overview
Suitable for all ages
Set in a 1950s villa, this cafe is light, airy and serves great tasting food. They cater well for dietary requirements like GF with a menu that covers breakfast, lunch and sweet treats. People also rate their coffee pretty highly!
Owned by parents to a young family, children are always welcome and there's even a mini fort outside for kids that like to be up and moving rather than sitting still at tables (there's also plenty of seating in the garden). Inside there are toys and a few books, highchairs and a change table.
Related tags
Cafes
,
Taupo
,
Waikato
Contact Information
Tel: 07 378 9664
Web: https://www.facebook.com/spoonandpaddle
Address: 101 Heuheu Street, Taupo. Street parking outside as well as a bike rack if coming on wheels!
Open: daily winter hours 8am – 3pm summer hours (from Labour Day weekend to Easter) 8am – 4pm daily except Sunday 8am – 3pm.