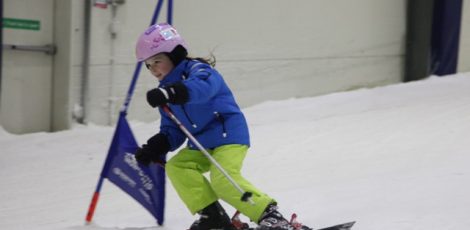 Overview
Suitable for 2+ and kids that can walk confidently
Whether you've skied before or not, you can still have fun as a family at Snowplanet all year round (about 30km north of Auckland city centre). The main slope is 200m long and is great for those that can ski or board with a harder course (rails, jumps and jibs) for those that know what they're doing. There's also a beginners slope where you can try out skiing for the first time or go tubing, tobogganing or just have fun in the snow play area. They also offer private and group lessons which need to be pre-booked by phone.
It's a good idea to wear lots of layers as it's cold even though you'll be inside (generally around -5!) The outer layer should ideally be waterproof. Don't forget warm socks and hats as these are the only items you can't hire. Gloves/mittens are also important – save money by bringing your own. Helmets must be worn by everyone that is skiing or snowboarding and these can be hired for $5. It might also be worth noting that the smallest kids' ski boot for hire is a child's size 10.
The price for skiing/snow boarding isn't cheap but there are sometimes specials available and it's worth checking on their website before you go. Tickets are for 2 hours, 4 hours or full day and it's worth keeping in mind that it's tiring so don't be over ambitious in how many hours you buy, if it's your first time.
There's a cafe onsite and this is a good place for people not going onto the snow to watch the action on the slopes. You don't need to buy anything to spectate from the cafe. You can BYO food and drinks but you're limited to eating it in the rentals area or at the outside picnic tables.
Related tags
Auckland
,
North Auckland
,
Rainy-day
Contact Information
Tel: 09 427 0044
Address: 91 Small Road, Silverdale, North Auckland
Open: daily Monday to Thursday 10am – 10pm, Friday 10am – 12am
Saturday 9am – 12am, Sunday 9am -10pm. Open all Public Holidays.
Price: Skiing/snowboarding for 2, 4 hours or full day Adult $47, $50, $70, Kids (under 17) $36, $40 & $50. A range of Family Passes start at $93 (1A+2K) but check out others, including a pass+equipment hire here. It's also worth noting that for any ticket purchased a special access card also needs to be bought which is $6/person (can be reused if you plan a return visit or fully refunded at the end of your visit).
Price: