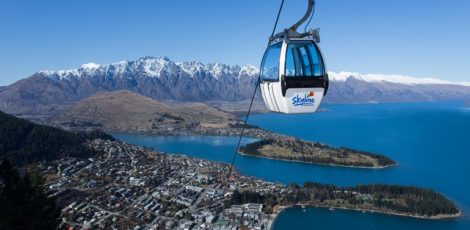 Overview
Suitable for all ages of walking children
If you're looking for a special treat while in Queenstown, the gondola ride up Bob's Peak might fit the bill. There are amazing views over the whole Queenstown area from the top and you also have the option of doing the luge which is great fun for both kids and adults if you like to have the wind through your hair and have no fear of speed! Age and height restrictions for doing the luge alone apply (5 years and under and/or under 110cm must travel in tandem with an adult and only on the Blue track). An additional height restrictions applies to the advanced luge track for 6+ year olds travelling alone (must be 135cm or over). See here for more details. If your child(ren) do need to ride in tandem, the accompanying person must be 15 years or over. Additionally, only infants who are able to walk and support their own body weight are able to ride with an accompanying adult.
Ideally you'd do this activity when the sky is blue and sun is shining BUT it can be done in most weather conditions (it has to be fairly extreme rain or snow for the Luge to stop operating and very high wind or lightening for the Gondola to stop). The best advice is to dress for the weather bearing in mind that it could be wetter/colder at the top. If you're doing the luge, consider wearing waterproof coats and pants if you have them and hats and gloves are good during the autumn and winter months.
There are a couple of different options for buying a drink or something to eat at the top if you're waiting for others to do the luge (neither has been specifically recommended but either would be places to wait if you need to escape rain or while other members of the party are doing the luge). Times of opening varying, so it's best to check the website if you're relying on getting a meal. The other option is to take your own food and drink and leave a bag with the person not doing the luge. If you're wanting to catch a glimpse of the 'lugers' there are various walking tracks that allow views of the tracks.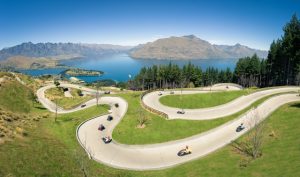 Related tags
Otago
,
Outside
,
Queenstown
,
Rainy-day
Contact Information
Tel: 03 441 0101
Web: http://www.skyline.co.nz/queenstown/
Address: Brecon Street, Queenstown. Limited public parking on Brecon Street, so you might want to consider walking as it's only a 5-10 minute walk from central Queenstown.
Open: The Gondola is open daily with varying start times depending on the day of the week and season with longer hours on a Friday, Saturday and Sunday and during the holidays. The Luge generally starts at the same time or shortly after the first gondola trip. Check closing times here.
Price: Gondola only Adults $46, Kids (5-14yrs) $32, Family Pass (2A+2K) $133, Family Pass (2A+3K) $160. Preschoolers FREE. Combination ticket for gondola+luge are worth checking here.
Tickets can be bought at the desk or online, occasionally there are daily deals that are only offered at the ticket desk.