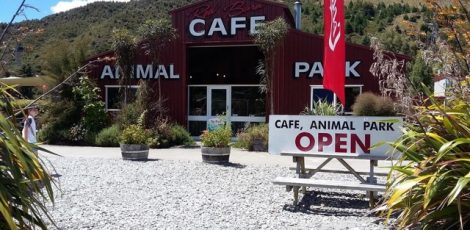 Overview
Suitable for all ages
This cafe has an animal park attached to it (see 'price') so it's a good place to stop and stretch the legs if you're travelling along SH6 with animal lovers in the car! Pick up some animal feed at the barn ($2 per bag) and visit the donkeys, sheep, goats etc. The farmyard is small but fine for a break in a journey. There's also an old tractor that kids can climb on, a model cow that can be 'milked' and short walks around the farm. TOP TIP: have gumboots to hand if it's been raining. If your kids aren't bothered by farm animals or you just don't want to have another expense, there's a small playground with swings and a rock climbing wall and gardens to wander round.
In the cafe there's a main menu, kids' menu and cabinet food. The food and coffee at the cafe is well reviewed although there's mixed feedback on the staff. Keep this in mind if you're visiting!
Related tags
Cafes
,
Murchison
,
Outside
,
Tasman
Contact Information
Tel: 03 523 9400
Address: 2480 Kawatiri-Murchison Highway (SH6), Longford. Signposted on SH6, just under 10km north of Murchison. Parking onsite.
Open: daily 8.30am – 5pm
Price: the animal park costs Adults $5, Kids $3 and under 5 FREE to go around. Animal feed is an extra $2 per bag.