Overview
Suitable for all ages
Pukeiti Gardens is roughly 30 minutes drive from New Plymouth but feels like it's a whole world away! It went through a major redevelopment in 2017 which has totally transformed this place into a great family attraction with things to do no matter what the weather is like.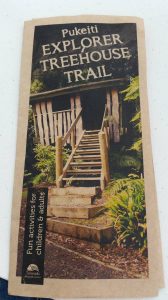 Access is via the visitors' centre, which is where you can pick up an explorers' kit aimed at kids aged 4-12 years (someone in the group will need to help kids that can't read). There's a covered elevated walkway from here to the treetop lookout above Pukeiti Stream. This walk could take about 20 minutes but there are numerous other trails as well with walks up to 2 hours. Have a look at the map here. If you've picked up an explorers' kit, the kids will be occupied with activities to do along the way as it guides you from treehouse to treehouse. Some things to look out for on shorter walks include a waterwheel and small waterfall and a 'secret garden' accessed via a tunnel. On longer walks there are swing bridges and a giant Rata. The main tracks are suitable for buggies but you'll need a carrier for smaller kids if you want to go off track e.g. into the rain forest area. The gardens are also well known for the huge number of rhododendrons which flower from roughly July onwards.
The Founders Café (closed in the winter months) in the visitors' centre also comes recommended and has indoor and outdoor seating. The kitchen is open daily till 3pm (closed June, July & August, Christmas Day and ANZAC Day). There's a menu including a selection of smaller dishes for kids which you can look at here and cabinet food. Check out their Facebook page here for more details.
It's worth noting that there are only toilets in the visitors' centre and dogs are NOT allowed. Also, if your kids get car sick, be prepared for the last 6km or so of the drive being on a reasonably narrow and slightly windy road.
Related tags
Cafes
,
Free
,
New Plymouth
,
Oakura
,
Outside
,
Rainy-day
,
Taranaki
Contact Information
Web: https://www.trc.govt.nz/gardens/pukeiti/
Address: 2290 Carrington Road, roughly 30 minutes drive from New Plymouth on the edge of Mount Taranaki National Park.
Open: the gardens are open daily, all year. Founders Cafe is open 1st September – 31st May and is then open daily except Christmas Day and ANZAC Day.