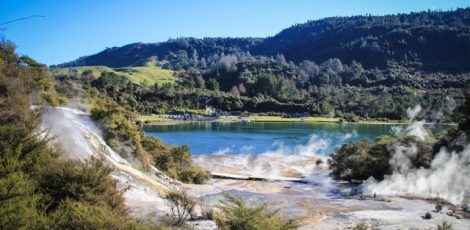 Overview
Suitable for all ages
If you want to see the usual features of Geothermal activity that they have in the thermal parks in Rotorua but you can't make it there or just want to avoid the throngs of tourists, consider going here instead. Situated on the artificial lake Ohakuri, created for hydro power, a trip here begins with a boat trip to actually get to the thermal park. As well as rising steam, bubbling mud and vibrantly coloured pools, there are also more active geysers here than anywhere else in New Zealand and the only geothermal cave in the country! You can't dip your toes into the hot pool at the bottom of the cave but you can view it from a platform 35 metres above.
The walk around the geothermal park is mostly on boardwalk but due to a number of steps at various points, it's not thought to be buggy friendly. Backpack carriers are available to borrow for under 2 year olds. You will need to keep a close eye on walking kids to make sure they stay on the paths. Walking around the park can take up half a day if you want it to. There's a cafe onsite.
Related tags
Bay of Plenty
,
Outside
,
Rotorua
,
Taupo
,
Waikato
Contact Information
Tel: 07 378 3131
Web: http://www.orakeikorako.co.nz
Address: 494 Orakeikorako Road, Taupo. It is 25 minutes from central Taupo and 45 minutes from central Rotorua. It's worth noting that the thermal park is only accessible by ferry boat – the cost for which is included in the admission price.
Open: daily with the first Ferry departing at 8am and the last ferry returning at 4pm (Winter) or 4.30pm (Summer).
Prices: tickets are 10% cheaper if booked online and are valid for 12 months. Online prices are: Adults $36, Kids (6 – 16 years) $15, Family Pass $92 (2A+ up to 6K). Kids aged 5 years and under FREE.