Overview
Suitable for probably 8+ but will depend on your child's cycling skills and endurance!
The Old Coach Road is a very doable cycle that's part of a much longer 'City to Sea' track in Manawatu-Horowhenua. With younger kids, this is best tackled as a oneway cycle from Horopito back towards Ohakune giving a very enjoyable roughly 14km cycle that has more downhill than uphill. The scenery through the Tongariro National Park is varied, taking in different aspects of the old and new train line, native bush and open farmland.
If you have access to 2 cars, then you can park at either end, otherwise, someone from the group will need to cycle back along the track to pick up your car at the start, leaving the rest of the party to slowly cycle back to Ohakune perhaps via the pump track, cafes and public toilet in Ohakune Junction.The third option is to organise a oneway or return shuttle through the i-Site or cycle hire shops in Ohakune.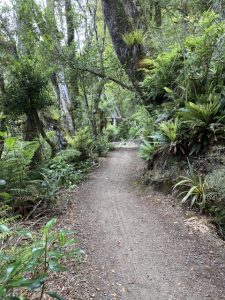 The track is a mixture of gravel/shingle (mostly at the start and towards the end of the track) and bush track which can be muddy if it's been raining heavily. As well as tree roots to navigate, there are old cobble stones poking out at various points which were literally the old road that the track is named after.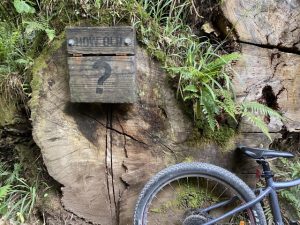 The ride can be anything from about 13km – 16km depending where you finish (see below). There are lots of info boards along the way which you can choose to stop at to learn more about the history and a few off shoots where you can add an extra couple of kilometres to your journey for particularly impressive views and a very dark curved tunnel (think about bringing a head torch if you don't have bike lights). Once you're on the track, there is nowhere to 'get off' so it's a good idea to take plenty of food and water and allow for lots of snack breaks. There are picnic tables at various points including walking over the old Hapuawhenua Viaduct (there's a picnic table at the far side) with a great view over the new viaduct, making it an especially scenic stopping place. If you're really lucky, the Northern Explorer will pass you taking passengers between Auckland and Wellington.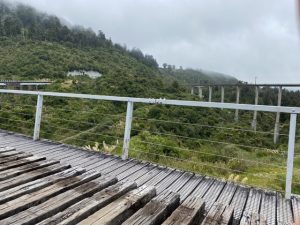 The most interesting part of the cycle ends at Marshall Road carpark so this would be a good place to leave your car or organise a shuttle pick up, if you're able to. If you can't finish here, be warned that the next section is on the road – albeit a quiet country road. Another alternative would be to finish your journey near the pump track at Ohakune Junction which would save you the extra kilometre or so back to Ohakune township and as well as the pump track (if you haven't done enough cycling!) there is a public toilet and cafes over the bridge. It's worth noting that there are no public toilets along the cycle track.
If you are going back to Ohakune township, turn right just before the pump track as there is a river trail going most of the way.
Related tags
Free
,
Manawatu-Whanganui
,
Ohakune
,
Outside
,
Rainy-day
,
Recently Added