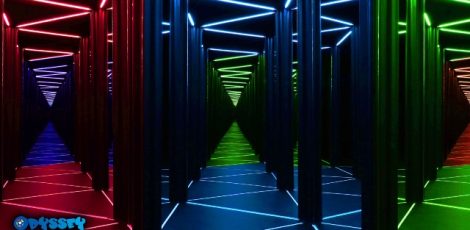 Overview
Suitable for recommended for 8+ by the business but younger kids might well love this attraction (especially if they're not afraid of the dark - see below)
This is an indoor maze with a difference – navigating through it, tests your senses. There are many different zones that you work your way through and each one tests a different sense. These can change from time to time but might include for instance, a room with mirrors to get through, a ball pit filled with balloons, and a corridor of different smells to try to identify.
It's worth noting that while most of the maze has lighting (varying from bright to dimly lit), one section is pitch black so rather than relying on your eyes to work through this area, you'll need to use your hands to feel your way around. The floor is sometimes uneven or there might be something hanging down that you have to feel your way past. If your kid(s) is scared of the dark, this will be particularly challenging for them and they might need extra encouragement or you might decide that this isn't an activity for your family at the moment. The recommended minimum age for Odyssey Sensory Maze is 8 years old but younger kids are allowed and do really enjoy the experience – you know your child best!
As an adult, this maze allows you to guide and help your child(ren) while also having fun yourself. It's a great place to come to get out of the rain or heat of the busy shopping district. If you have kids that are prone to racing through things at a high speed, you might need to slow them down to take time to really enjoy each part – there's no time limit for how long you spend in the maze but if you do end up exiting quickly, you could look to upgrade your ticket to one that allows re-entry.
There is the option of buying 'crazy goggles' (detracted lenses) to have a heightened experience while going through the maze, for example the lights are more intense. Possibly better suited to adults and older kids but again, it will depend on your child. If your smaller child(ren) is keen, ask for a band to help secure the glasses so the 'one size fits all' works for them.
During the school holidays and weekends, it can be busy but you can pay and be given an estimated waiting time so that you can go away, perhaps have something to eat and come back again ready to start.
Related tags
Auckland
,
Auckland City
,
Rainy-day
Contact Information
Tel: 09 365 1145
Web: http://odysseysensorymaze.co.nz
Address: 291-297 Queen Street, Auckland City on the lower basement level of the Metro Centre.
Open: daily 9am – 9pm Sunday to Thursday and 9am – 10pm Friday and Saturday.
Price: Adults $22, Kids (5-12 years) $17, Students (from 13 years) $20, Kids 4 years and under FREE. Family Pass (2A+2K) $64. Booking online before you go might save you money on these prices.
TOP TIP: Odyssey sometimes have special offers available on their Facebook page. You can also check on the Book Me website here to see if you can secure tickets for cheaper for when you want to go.