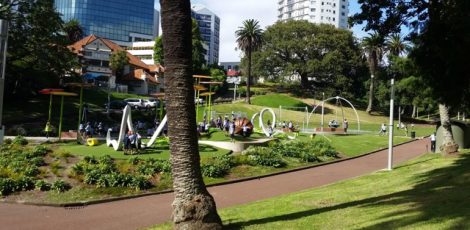 Overview
Suitable for all ages but up to about 8 years old will probably enjoy it for longer
If you're in the CBD looking for a playground this is one option. It's easily accessible from upper Queen St (see address).
The playground has monkey bars, a basket swing, a swinging bridge, regular swings, sculptural pieces for walking over and balancing on. There are small slides and swings suitable for preschoolers.
Lots of trees around for shade although there's no shade over the equipment. Grassy areas for picnics. Toilets next to the playground. Equipment is better suited for ages up to roughly 8 but obviously depends on your kids.
Related tags
Auckland
,
Auckland City
,
Free
,
Outside
,
Playground
Contact Information
Address: Lots of entry points into the park. If you're walking it's an uphill walk from Mayoral Drive or Greys Ave. It's a downhill walk from Poynton Terrace or Scotia Place. There's also an access point between 371-381 Upper Queen Street.
You can try parking on any of these streets but it's limited. Otherwise try Civic car park at the city end of Grey's Ave and it's a 5 minute walk up from there.