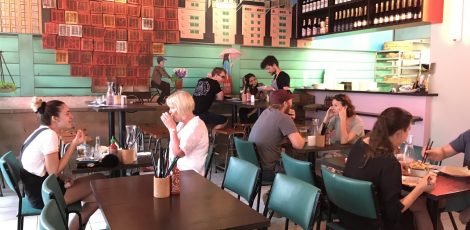 Overview
Suitable for all ages
While this restaurant, in the heart of Wellington, isn't specifically child-friendly, in that there's no children's menu or toy basket, kids that are happy to try different foods, do seem to love it here.
The menu is modern Asian hawker street food with twists on the food from several Asian countries. Gua-Bao steamed buns and small plates are perfect for sharing or for those with smaller appetites. Dumplings and skewers are also popular with kids. The food is generally very tasty rather than spicy, but if your kids don't like hot spices, it's a good idea to check this with the waiting staff before they place an order. The main menu caters for vegetarians, vegans and those on a gluten free diet but there's also a special allergy version of the menu for nut, egg, dairy, soy or garlic & onion free dishes as well. You'll need to request this menu if it applies to your party.
Food comes out as it's ready and is generally quick, perfect for those that don't have the patience to wait for their food! Staff are friendly and accommodating. There's a highchair but no change table.
Related tags
Cafes
,
Wellington
,
Wellington City
Contact Information
Tel: 04 384 3488
Web: https://mrgos.co.nz
Address: 59 Taranaki Street, Wellington. Paid parking on the street and surrounding streets, otherwise take a bus to Courtney Place.
Open: 11.30am – late daily except closed on Public Holidays.