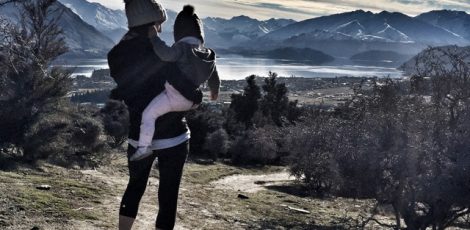 Overview
Suitable for all ages (although young kids will need to be carried)
The view from the top of Mount Iron is definitely worth dragging the kids up for! When you're at the top, on a clear day, you can see for miles with the Southern Alps in one direction, The Pisa Range in another direction and all of Wanaka spread out down below you.
There are a couple of different options for going up but one track begins about 2 km out of Wanaka at the Mount Iron carpark. There's a stile to climb over and then take the left fork to go up the west side of the summit. You then return down the eastern side and go round the base of the hill back to the carpark. The walk should take around 1.5 hours return (4.5km in total) depending on walking speed (a fit adult should be able to do it in around an hour but young kids might take quite a bit longer). It is steep and there are drop offs to the side of the track at times, which you'll need to watch kids on, especially if they're likely to wonder off.
The track is NOT suitable for buggies, so you'll need to be prepared to carry little ones in either front or backpacks. Obviously some kids are more enthusiastic about walking than others, so whether your child will be able to reach the top of Mount Iron will very much depend on them. Even if you only get halfway up, you should still be rewarded with some lovely views.
Dogs on leads are allowed.
Related tags
Free
,
Otago
,
Outside
,
Wanaka