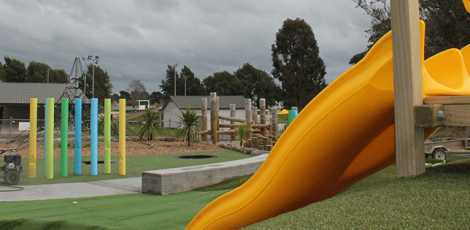 Overview
Suitable for all ages
The playground opened in 2015 with several different pieces of equipment especially suited to younger kids like the mini trampolines, set into the matting. There's also 2 mini tunnels set into the grassy hills, dual flying foxes, a mini spider web climbing rope and a bike track goes all round the outside of the equipment. There are also water channels that can be turned on/off and kids can try to redirect the water flow.
It's worth noting that this playground is right near Lake Rotokaeo, with only low, chain fencing so kids that are likely to run off will need to be monitored especially carefully.
There's a miniature train that operates on Sundays (weather permitting) from 10.30am – 3pm. Rides cost $2 per person. The train is at the end of Tui Avenue. Check the Facebook page to see if it's operating on the day if the weather isn't great.
There are a couple of picnic tables and partial shade provided by some big trees on the periphery of the playground and shade sails over the water channels. This playground is near Hamilton BMX club.
Related tags
Free
,
Hamilton
,
Outside
,
Playground
,
Waikato
Contact Information
Address: Car parking and the playground are off Moore Street, just a short distance from SH1, in the Forest Lake suburb, north west of Hamilton.