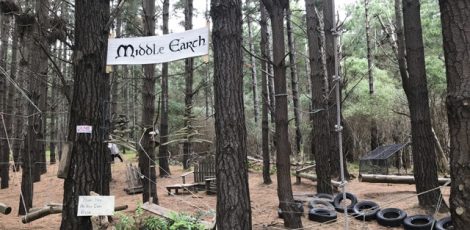 Overview
Suitable for all ages
This once secret playground is incredibly unique. Nestled among the trees in the private forest to the south of Waitarere, this is the most natural of playgrounds with most pieces of equipment being made out of rope and wood. The playground is also a lesson in up-cycling with an old quad bike, boat, huge buoy, tyres and a jet ski (basically anything that might be found lying around a seaside property) all being reborn as play things. One person's junk is definitely another person's playground here!
For obvious reasons, this playground has no health and safety check, so you definitely play here at your own risk but a lot of thought has clearly gone into the equipment so that there's something for all age groups, including adults who seem to have as much fun as the kids!
Getting to Middle Earth feels like an adventure in itself. You walk along a path between the back of houses on Hydrabad Drive and the trees and low and behold, after a couple of metres, there's a fairy garden. Garden gnomes, old Christmas decorations, toad stools and much more will put a smile on everyone's face but if you have a little one that still believes in fairies, you might not make it to the playground!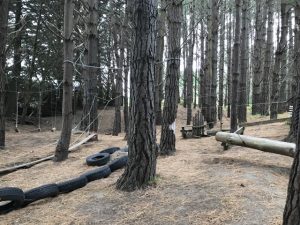 Further along the path you come to swings made out of tyres, a roundabout that was once a quad bike, tree trunk balance beams, see saw, monkey bars, ladders and much more. Older kids can follow the arrows for a challenging obstacle course, or make up your own route through the playground. To one side there are a collection of huts made out of fallen tree branches, to the other side there are chairs and tables carved out of wood. There is a definite sense of fun at this playground and the ingenuity is very Kiwi.
As it's nestled in the forest, it's sheltered from the weather – you won't notice drizzle or wind but you probably wouldn't want to be amongst the trees in a thunder storm!
Related tags
Free
,
Manawatu-Whanganui
,
Outside
,
Recently Added
,
Waitarere
Contact Information
Address: The end of Rua Ave, off Hydrabad Drive, Waitarere. There's street parking on both roads and a little entrance way into the forest at the end of Rua Ave. Turn left for both the fairy garden and playground. Fine for a sturdy buggy.