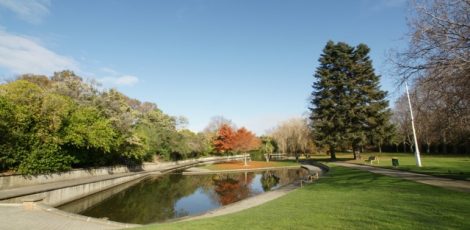 Overview
Suitable for all ages
While the local council are planning upgrades for this park, it is already popular among local families for the wide range of activities available here. There's lots of open space for running around, ball games etc. Bring your skates or scooter to practise at the skating rink, bring togs and splash around in the fenced paddling pool (great for younger kids but only open in the summer months). There's also ducks to feed if you've got duck food with you and football (soccer) matches to watch at the stadium. If you have kids' scooters or bikes, they can ride along the tracks near the duck pond and explore all this park has to offer.
The playground is right in the centre of the park and is fairly small but has a wheelchair accessible swing (the key for this is available from the I-Site in the Square), a space net for climbing, balance beams and a small course for preschoolers that includes a slide, ladders and tunnel.
There are lots of big old trees for shade should you need it and a toilet near the playground.
Related tags
Free
,
Manawatu-Whanganui
,
Outside
,
Palmerston North
,
Playground
,
Pools
Contact Information
Address: Memorial Park borders Main Street (SH3), Frederick Street and Fitzroy Street in the Terrace End area of Palmerston North to the East of the Square and centre of Palmerston. The duck pond is closest to Fitzroy Street, whereas the playground and paddling pool are closer to Main Street. Parking just outside or inside the main gates is accessible from Main Street opposite a petrol station. You can also park on Fitzroy Street and there are entrances here too.