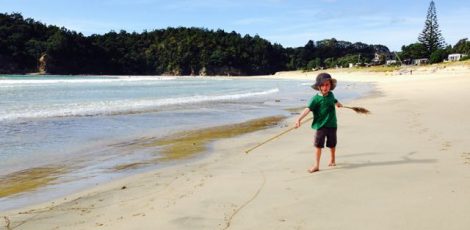 Overview
Suitable for all ages but see below for one walk
Matapouri Beach is a huge white sand beach in a natural cove that is very sheltered and great for kids. Rock pools and fishing from the rocks available from both ends of the beach.
You can also walk over to Whale Bay which has a beautiful beach only accessible on foot or by boat. It's an easy walk which should be manageable for all ages of walkers and takes approximately 20 minutes.
For supplies including ice creams, there's Matapouri Bay Store on the corner of Matapouri Road and Wehiwehi Road.
** The walk to Mermaid Pools is currently closed due to the amount of rubbish left there by visitors. The rest of the beach and walk to Whale beach remains open** From the Northern end of the beach you can walk over to a huge rock pool which people swim in (Mermaid Pools). Accessible only by a steep path through the bush and then out along a ridge line. The walk should be doable for 5+ year olds. It's not far (approx 20 minutes) but it's quite a rough track so good shoes (as opposed to jandals) are advisable!
Related tags
Free
,
Matapouri
,
Northland
,
Outside
,
Tutukaka
Contact Information
Address: Matapouri Bay is home to Matapouri Beach. This is accessed from several side streets off Matapouri Road including Wehiwehi Rd which has parking at the end of it.