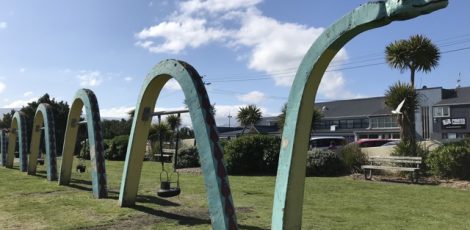 Overview
Suitable for all ages
Set behind the beach and locally referred to as the 'Dino park' this is a great destination playground to visit as a half or full day trip. For younger kids some of the playground equipment is themed around dinosaurs (a stegosaurus slide, diplodocus swings etc) There are also more traditional obstacle course structures with slides, tunnels, wobbly bridges, monkey bars and generally lots of climbing opportunities.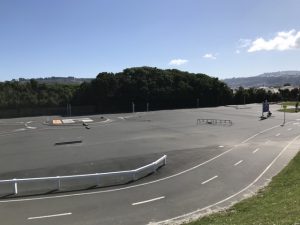 Within this same area, there's also a basketball court and simple skatepark with low ramps and a large bike skills area for kids with wheels. There are road signs and markings for kids on scooters or bikes to learn road safety and practise their skills. Across the road there are also large playing fields with rugby and football goals set up.
If the playground isn't enough entertainment for a day trip, take sand equipment and walk up the short hill to St Kilda beach. The sea can be extremely rough and it's a popular spot for surfers but you could let your kids paddle in the water, especially between the flags when the surf life saving is operating.
Over the summer, you can also take a full size steam or diesel train along the Ocean Beach Railway line for a 15 minute return journey (approximately 1km including a 1:50 hill climb!) from St Kilda Station. See their website here or better yet, give them a call to check if the trains will be operating (tel: 03 455 2798).
Related tags
Dunedin
,
Free
,
Otago
,
Outside
,
Playground
Contact Information
Address: on the corner of John Wilson Ocean Drive and Kettle Park Road, St Kilda, South Dunedin
Price: The Ocean Beach Railway operate trains from approx Labour Day Weekend to Anzac Weekend (end of October – end of April) for the following fares: Adults $7, Kids $5, Family Pass (2A+up to 4K) $20. Unlimited travel on the trains is permitted for the day of purchase. Trains go from St Kilda Station, John Wilson Drive.