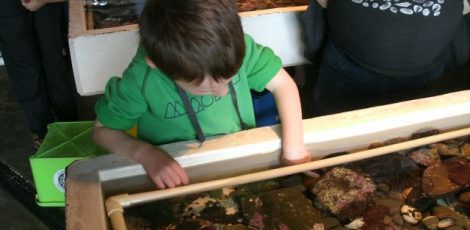 Overview
Suitable for all ages
Only open on a Sunday, this small but friendly mini aquarium on the south coast of Wellington is a great place to come to see the animal life that lives in the sea around this city. There are tanks which are home to fish of different sizes and colour like Blue Cod, Snapper and Groper (Hapuka) as well as seahorses, turtles and an octopus. The octopus gets fed every Sunday at 10.45am and the staff member also tells the audience some interesting facts about octopus.
The main attraction for most kids are the open tanks which are set up like rock pools and everyone is encouraged to gently put their hands in to touch and sometimes hold the animals which include sea cucumbers, star fish and hermit crabs.
TOP TIP: Even though you're inside, it can be pretty cold here especially in the winter months or when there's a southerly blowing! Bring warm layers but also remember that kids will want to pull their sleeves up to plunge their hands into the rock pools, so make them thin, warm layers and bring a spare top if your kids are likely to get wet!
Related tags
Rainy-day
,
Wellington
,
Wellington City
Contact Information
Tel: 04 383 8285
Web: http://www.octopus.org.nz
Address: The Bait House Aquarium, The Esplanade, Island Bay, Wellington. It's the building that stands alone on the coast just west of the beach at Island Bay, with a big fish piece of artwork on it! There is some parking next to the aquarium as well as street parking on The Esplanade.
Open: 10am – 3pm Sundays only
Price: Adults $5, Kids $2