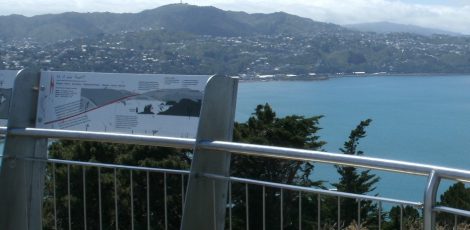 Overview
Suitable for all ages
An accessible lookout point from the centre of Wellington is at the top of Mount Victoria. The view from the top is great on a clear day with lots of photo opportunities. You can drive up to the top, through the winding streets of Mount Vic and Roseneath. You can also walk up along the Southern Walkway. It's steep but depending which tracks you take, should be between 1.5-2km check the map and routes up here.
Another alternative is to catch a bus to the top and walk down. Check here for bus routes and times.
However you get to the top, you should make sure you visit the small playground on The Crescent, Roseneath which is home to one of Wellington's longest and fastest slides! You can even enter the playground via the slide. There are about 5 other pieces of equipment including swings, a roundabout, a small slide and a kind of small iron boat. The slide is definitely the reason to visit this playground but be careful, it's very fast and because it's not completely straight, if your kid can't control their speed, they could get their legs caught and really hurt themselves. Be prepared to go down it with them the first time! The playground has the same wonderful views of the harbour as the lookout and the Southern Walkway goes right through it.
Related tags
Free
,
Outside
,
Playground
,
Wellington
,
Wellington City
Contact Information
Address: Mount Victoria Lookout, Lookout Road, Wellington. Car parking available at the top.
The playground is at 18 The Crescent, Roseneath, Wellington with some street parking and a few off street spaces right at the top of the slide.
Playground on The Crescent